When it comes to restocking our beauty drawers, nothing feels better than getting a great deal on the products we love the most. In many cases, all it takes is getting a free gift along with the purchase of our favorite items.
We've compiled a list of the top beauty brands that regularly offer free gift sets, and we're keeping your budgets in mind. Now, we're not talking about drugstore brands, these are department store and salon brands that won't break the bank.
If you love beauty deals, and want to keep up to date on all the latest deals that we can find for you, then submit your email below and get them sent directly to your inbox.
1. ESTEE LAUDER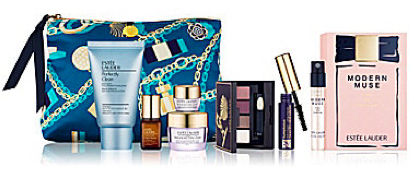 In 1946, Estee Lauder invited her preferred customers to purchase her new product line at Saks Fifth Avenue, and with their purchase they would receive a free cream-based powder. The "free gift with purchase" marketing concept was born, and the rest is history.
Luckily for us, Estee Lauder still offers regular free gift sets, with most department stores only requiring a $35 purchase. Their cosmetics range from approximately $20-$50 each, the skin creams and serums can range between $50-$100 and up, and the free gifts offered can be valued at over $100 for 5-8 deluxe sample sized items. So you won't bust your wallet buying the Futurist Age-Resisting Broad Spectrum SPF 15 Makeup for $42, and if it comes with a 6 piece gift set, then it makes each item around $6 each.
2. LANCOME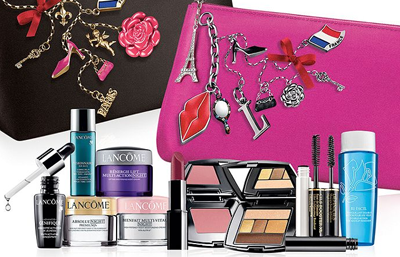 Lancome may not have invented the "free gift with purchase" concept, but they've definitely mastered it. Like Estee Lauder, you can find Lancome free gift sets at most major department stores if your timing is right. However, if you miss out, they also offer deluxe free gifts directly from their website.
You might be wondering, "Why would I buy the more expensive Lancome brand, when I can buy L'Oreal [the same company] for less money at the drug store?" I'll start by acknowledging that the quality of Lancome's products is similar to L'Oreal's from what I've heard and researched. So both brands offer quality products.
However, the drugstore will never offer free products with your purchase. A recent Macy's free gift set included an eye shadow palette, deluxe sample serum, full-sized lipstick, eye makeup remover, mascara, and cosmetics case, valued at over $116. It seems like an amazing deal for spending only $35 to qualify. So a 6-piece gift set, plus the purchased item, makes each item only $5 a piece. That's potentially cheaper than buying the equivalent drugstore items individually.
3. CLINIQUE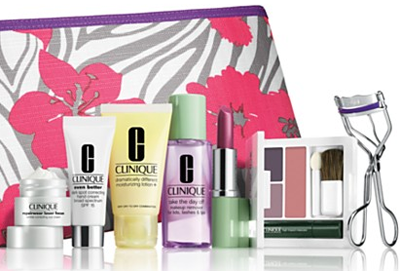 Clinique Bonus Time. Three of the sweetest words in the English language.
Unlike Lancome and Estee Lauder, Clinique doesn't offer as many star-studded free gifts around the year, which makes it such a coveted offer.
What makes it precious is the quality and value that Clinique provides. I've been using Clinique daily for the past 25 years, and have never had sticker shock at the counter. And my skin has never died of thirst.
During Bonus Time season, I stock up on Dramatically Different Moisturizing Lotion+ ($26), Liquid Facial Soap ($17 for 6.7 oz.), Instant Lift for Brows ($16.50), or any combination of the above that will qualify me for the free gift.
Department stores will require anywhere from $27-$35 to qualify, but if the Bonus Time gift includes 8 items, it's definitely worth the buy. So if I get the Liquid Facial Soap and Instant Lift for Brows, plus an 8-piece gift set, that makes each item about $3.35 each. Say what!